In Business and the Natural Environment: A Research Overview, Professors Andrew J. Hoffman and Susse Georg provide a comprehensive overview of the academic research conducted on businesses and the natural environment for the past several decades. The book describes the historical roots of this field of research and highlights seminal works that have formed its foundation of academic scholarship. Hoffman and Georg point out that although this topic is relatively new as an academic field, it is reaching a phase of maturity and has gained sufficient attention to warrant a review. Hoffman is the Holcim (US) Professor of Sustainable Enterprise at the University of Michigan and a faculty member of the university's Erb Institute for Sustainability in Business; Georg is Professor of Sustainable Innovation at the University of Aalborg, Copenhagen campus, in Denmark.
The book is timely because it showcases how much of the research has tended to remain situated in classic theories of management, such as competitive strategy and the resource-based view, institutional theory and stakeholder perspectives. Much of the work done to date stops short of being truly "eco-centric," yet climate change issues cannot be addressed properly unless scholars consider natural and political systems as central to how businesses manage their environmental footprints.
The authors argue that a new phase of sustainability, focused on the era of the An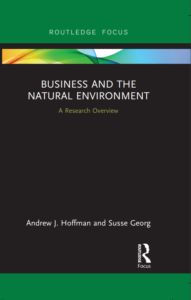 thropocene, represents a new direction that emphasizes the role of humans and draws attention to the role of business in sustainability—including whether businesses can influence change at all in the long run. This critical perspective points to several likely paths for academic research that would contribute meaningfully to our understanding of business and sustainability. For example, Hoffman and Georg argue that scholarship needs to pay stronger attention to theories of social justice, politics and power, and giving voice to the natural environment as a silent stakeholder. The authors call for research that emphasizes stronger ties between businesses and the natural environment, and the role of policy. They also argue that the academic lens on sustainability needs to encompass a systems perspective rather than a firm-based perspective.
During an era that brings us to a potential point of no return if we do not address sustainability issues, Hoffman and Georg offer a much-needed and timely critique of scholarship on business and the natural environment. In our advance toward a new era of sustainability, their book drives us to question everything we know and assume about business and sustainability. It encourages us to think about alternatives that may help us reach a desirable future—if we can learn from and let go of the past.
Review by: Judith L. Walls, Assistant Professor, Nanyang Business School, NTU Singapore