Climate change is the reality we live in, and despite the combined actions of our global community, it continues to outpace our efforts. At the Erb Institute, we understand the daunting challenges that climate change presents—and the true potential of business to slow, and eventually reverse, this trend. Our research, teaching and engagement with businesses continue to drive toward that aim.
Listen to an interview with Erb Faculty Director Joe Arvai on the Paris Climate Agreement.
We are proud to have advisory board membership publicly state their recognition of and continued efforts towards meeting the goals outlined in the Paris Climate Agreement. We've collected these public statements to showcase, in their words, how businesses are planning to continue their climate change mitigation through sustainable action.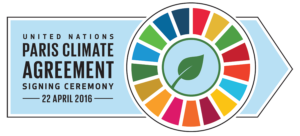 Strategic Advisory Council's Public Company Statements
"IBM has stated its position on climate change publicly since 2007: Climate change is a serious concern that warrants meaningful action on a global basis to stabilize the atmospheric concentration of greenhouse gas emissions.
Climate change is an international problem that requires an international solution, and we believe it is important for the world to reduce greenhouse gas emissions. Therefore IBM supported — and still supports — U.S. participation in the Paris Agreement. This agreement requires all participating countries to put forward their best efforts on climate change as determined by each country. IBM believes that it is easier to lead outcomes by being at the table, as a participant in the agreement, rather than from outside it.
Whether the U.S. participates in the Paris Agreement or not, IBM will continue its decades-long work to reduce its own greenhouse gas emissions and will continue to help our clients do so as well."
"U.S. withdrawal from the Paris Agreement is a major mistake that will serve as a setback for climate action, global cooperation, and business, which overwhelmingly supports Paris. This decision not only damages the global consensus on how to address climate change, but also the innovation, competitiveness, and job creation that can flow from the steps outlined in Paris. Despite this deeply regrettable decision, I am confident that business—very much including American companies—will remain resolute in showing how the transition to low-carbon prosperity can be achieved and can improve livelihoods. BSR will continue to work with businesses that understand this and that are leading the way to 21st-century business models."
"It's important for the business community to voice our support for taking action on climate change. We're here to serve our customers and we know how important it is to them that we remain steadfast in our commitment to addressing the climate challenge."
"Given the announcement yesterday that the U.S. plans to withdraw from the Paris climate accord, I want to share some thoughts with the Ford team. At the highest level, Ford Motor Company stands for social progress and contributing to a better world. From this standpoint, and from my own personal values, the Paris decision was disappointing news. Ford believes climate change is real. I want to assure each of you that we remain deeply committed to better fuel economy, electrification, sustainable facilities and other strategies that will help reduce greenhouse gas emissions. And we will continue to urge the U.S. to collaborate globally to advance climate change solutions that include contributions from every sector and every country. Everyone has to work together and do their part to bring real change.
Thank you for all you are doing for Ford."
-Bill
"While we are disappointed in the decision to withdraw the United States from its commitments in the Paris Climate Agreement, we understand there are always many potential solutions to challenges and are eager to work toward alternative solutions. We will continue to collaborate with President Trump as well as other businesses, NGOs and academics to continue to advocate for smart policies that enable the reduction of global greenhouse gas emissions and ensure that global markets stay open to American exports and innovation."
"Amazon continues to support the Paris climate agreement and action on climate change. We believe that robust clean energy and climate policies can support American competitiveness, innovation, and job growth. We remain committed to putting our scale and inventive culture to work in ways that are good for the environment and our customers."
"Disappointed with today's decision on the Paris Agreement," [GE's CEO] Immelt tweeted. "Climate change is real. Industry must now lead and not depend on government.
"Today's announcement that the U.S. government intends to pull out of the Paris Agreement is short-sighted. For decades, the U.S. has demonstrated leadership on international environmental issues from President Reagan's efforts to create the Montreal Protocol to protect the ozone layer through President Obama's efforts to advance the Paris Agreement and drive it to enter into force. That U.S. leadership has been essential to stimulate the necessary actions by all countries to solve these global challenges. Universal action on climate change is the only path to a more secure, healthy and prosperous future.
The Nature Conservancy firmly believes that strong and continued U.S. leadership is vital to the success of the Paris Agreement and addressing the challenge of climate change because the issue transcends borders and requires international cooperation to solve. We encourage the President and Congress to work with the business, environmental, public health and science communities, as well as state and local governments, to enhance our environmental safeguards, including the Paris Agreement, rather than back away from them, in order to deliver better environmental and economic outcomes for both people and nature."
"In the global race to create jobs and strengthen our economy, withdrawing from the Paris Climate Agreement is not putting America first – it's putting America last.
While the U.S. sits on the sidelines, China and the more than 195 other nations that are parties to the Paris Climate Agreement will race ahead to spur innovation, investments and new jobs. The U.S. now joins only two other nations – Syria and Nicaragua – that are not members of the Paris Agreement.
Today's announcement is a direct threat to U.S. economic and job growth. The U.S. business community, which continues to embrace and accelerate the low-carbon future, recognizes the urgency of tackling climate change.
In the face of the Trump administration's failure to lead on climate change at the national level, the business community will not back down. Investors and companies will redouble efforts to support and invest in solutions that will accelerate the transition to a sustainable, low-carbon economy – regardless of today's action by the Trump administration. They will also work with Congress and state legislatures to strengthen and defend other federal and state climate and clean energy policies."
External Advisory Board's Public Company Statements
"Today's setback only deepens our responsibility as institutions of higher education and adds new urgency to our efforts," [GWU President] Dr. Knapp said on Thursday. "We must practice what we teach, advance knowledge of climate change and inspire future generations of climate leaders and innovators."
"Local power is now all important, given that the federal front is abdicating its environmental responsibilities," said Guy O. Williams, President & CEO, DWEJ. "Fortunately, this is an election year for Detroit. The Trump Administration may be short-sighted when it comes to clean air and water, our environment, our health. But we can't be. And we won't be."
"It is deeply disappointing but not very surprising that President Trump has made the shortsighted decision to remove the United States from the hard-won, historic pact between 197 nations to work together for a livable planet.
The president's mistake today not only breaks a commitment our country made to the rest of the world. It also goes against the will of most Americans, warnings from the scientific community and the best advice from business leaders. It means our country will fall behind and our economy will lose steam in the global clean energy race that is already underway."
-Chris Kolb, president of the Michigan Environmental Council
"We are deeply disappointed by the recent shift in climate policy. Nike believes that climate change is a serious global threat and that the world will need to radically redesign industrial systems and economies in order to enable a low-carbon growth economy. We will continue to honor the core commitments of the American Business Act on Climate Change Pledge, including reaching 100% renewable energy in all Nike owned or operated facilities around the world by 2025, participating in the U.S. Department of Energy's Better Buildings Challenge and advancing materials innovation globally."
"GM will not waver from our commitment to the environment and our position on climate change has not changed. International agreements aside, we remain committed to creating a better environment."
"When our country steps backwards, we must step forwards. Today, as our President announced the United States' intention to withdraw from the 2015 Paris climate agreement, that call to action rings true.
The Ecology Center is about creative solutions for thriving on planet earth. These solutions are people as much as they are actions, and it's each and every one of us who have the limitless capacity to act in service of the planet that sustains us. This organization was built on the framework that people – each of us – are conduits for change. It's us that have the power to dictate the future we seek to share with our children. Our choices aren't dictated by this administration, but rather by what's inside of us. The resiliency of our community isn't dictated by public policy, but by our individual and collective actions every single day.
Our community is filled with families committed to their children's future and DIYers doing their part to live in harmony with the land. Our community is also filled with idealists and dreamers who believe that our future can be one of togetherness. I share those aspirations and that purpose.
Tonight, after a long day of work, I'm going to hug my son and wife extra tight. I'm going to take an extra breath of the rich soil in my garden that nurtures the fruits and vegetables that feed my family. And tomorrow, I'm going to wake up with intention, because giving every ounce of my being to building a thriving future isn't a nice idea – it's everything.
We are here for you. I am here for you. Let's get to work."