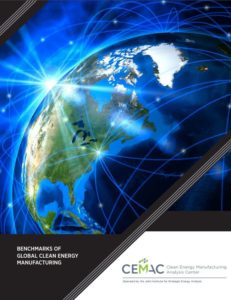 A recently released report from the Clean Energy Manufacturing Analysis Center (CEMAC) is the first of its kind to isolate and quantify the economic effects of clean energy manufacturing sectors. The report, Benchmarks of Global Clean Energy Manufacturing, evaluates clean energy technologies and establishes benchmarks for their manufacturing supply chains. Key findings paint a picture of the role of clean energy manufacturing for 12 primary national players and what that means for the global economy.  These findings should, and will, inform decisions about future investments in clean energy.
The report focuses on four specific technologies: wind turbine components, crystalline silicon (c-Si) solar photovoltaic (PV) modules, light-duty vehicle (LDV) lithium ion battery cells, and light-emitting diode (LED) packages for lighting and other consumer products.
Manufacturing—A Complex and Distributed System
"Manufacturing of clean energy technologies is a complex global enterprise," the report's summary notes. It involves extensive trade among economies, with production and demand for each technology centered in various locations around the globe. The report goes so far as to provide specific manufacturing profiles for 12 primary manufacturing hubs: Brazil, Canada, China, Germany, India, Japan, Malaysia, Mexico, South Korea, the Republic of China (Taiwan), the United Kingdom and the United States. It breaks down the data by country and by technology, and these individual profiles offer insight on how clean energy technology manufacturing affects national economies, identifies economic opportunities that exist across the manufacturing supply chain, and the global dynamics involved.
A thorough understanding of a technology's supply chain is critical for short- and long-range planning. "Due to the complex influences across many sectors of national and global economies, considering the entire development, manufacturing and deployment supply chain in investment and incentive decisions could be important," the report says. It will help set research agendas and determine the investment strategies that will ensure that there are clean and competitive sources of energy in the future.
Establishing Benchmarks
In the end, "you can't manage what you can't measure," said Debbie Sandor, project leader of the report. As such, the CEMAC has developed a common framework and new methodologies for assessing supply chains. This "allows industry and policymakers to evaluate clean energy impact and track trends over time in terms comparable to those for fossil fuels," said Jill Engel-Cox, CEMAC program director.  To facilitate comparisons among technologies and these key economies, the report establishes four key benchmarks:
Manufacturing value added: An estimate of what clean energy manufacturing contributes to national GDP, both directly and indirectly.
Trade: A snapshot of trade activity among economies across the supply chain, referencing trade imbalances and currency fluctuations.
Market size: The relative concentration of clean energy technology consumption.
Manufacturing capacity and production: The distribution of manufacturing activity around the world and opportunities for expansion.
Findings
Value added. The report found that larger economies, with more extensive manufacturing supply chains and higher prevailing wages, typically retain more "value added" from clean energy manufacturing than smaller economies do. "From a national perspective, extensive domestic supply chains and higher prevailing wages help ensure that more of the money spent on clean energy technology manufacturing—for workers, investors and governments—stays within the country," Sandor said.
The United States is a case in point. Clean energy markets have been strong, and the United States retains the highest value added of all countries studied: 57 percent. Malaysia retains the lowest, at 16 percent. The report also found that the indirect value added—or the economic ripple effect—is greatest in China, Mexico, India and Brazil.
Trade. With these clean energy technologies, focusing only on the end product does not tell the whole story, because the system is complex. "Economies that are net importers of end products may be major exporters of upstream processed materials and subcomponents of those same technologies," the report's summary notes. When zeroing in on upstream links in the supply chain, the report found that manufacturing contributed significant economic value to many more economies than just those that produce end products.
Market size. The report provides the market size of each technology. They vary, from the $45 billion wind industry to the $2 billion automotive lithium-ion cell industry. It also notes individual countries' portions of that market, as well as countries and regions where demand for these technologies is concentrated. For example, demand for LED packages—which are used to manufacture lighting and televisions, for example—is especially concentrated. Nearly all the aggregate demand comes from five economies: Japan, South Korea, Malaysia, Taiwan, and China—where many of the consumer products that contain LEDs are assembled. Wind turbine demand is less concentrated, although a small number of economies make up a disproportionate share of global demand.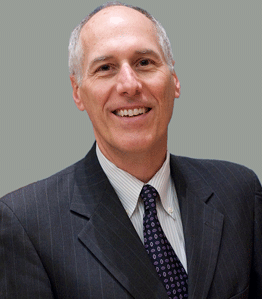 Erb Executive in Residence and CEMAC Advisory Committee Chair Tom Catania notes, "As countries and companies develop clean energy manufacturing strategies, they will dynamically evaluate which portions of the supply chain are desirable and which they are comfortable leaving to others.  It will be interesting to see how concentration levels fluctuate in the future as companies and countries continue to arbitrage trade policy, financial policy and environmental policy, in search of a lasting competitive advantage.  The benchmark study takes a snapshot of where things stand today."
Capacity and distribution. Overall, the report found an excess of manufacturing capacity, relative to global demand. The report's summary notes, "Excess capacity can be used to meet potential demand growth from increased technology adoption. However, without increased demand, persistent excess capacity can place downward pressure on pricing."
The report also offers insight on the distribution of manufacturing facilities. Sandor noted that some strategies that have supported the expansion of domestic and regional manufacturing include:
Government R&D funding
National and subnational tax and investment incentives
Leveraging existing or complementary industries (such as expanding Li-ion cell production from consumer electronics to automotive applications)
Building clusters of key intermediate product manufacturing facilities to gain regional supply chain advantages and cost benefits.
Catania notes, "As with most industries, clean energy manufacturing is seeing relentless efforts to reduce cost and drive innovation. Company and national strategies that are well-informed by high quality information will serve the private sector participants and policymakers that have chosen to pursue clean energy manufacturing. Policymakers and industry leaders who are well versed in the complexities of the clean energy economy can position themselves to seize new opportunities and better exploit or develop the core competencies this industry requires to be successful."
Identifying Opportunities
In summary, many of the report's findings can and will inform policy and investment decisions to advance the clean energy economy. "Trends toward increasingly global supply chains, automation and decentralized manufacturing can create tremendous opportunities for innovation and economic development," said Engel-Cox. "These opportunities include developing new dynamic industrial processes, sustainable materials and advanced clean manufacturing technologies, as well as the high-tech labor force that will create and operate them."
"Trade, monetary, tax, intellectual property and industrial policies can often have a profound effect on nations seeking to expand their global footprint in clean energy manufacturing," Catania said. "Often, the available data does not fully reflect the effect of national and global policies on the day-to-day business environment. The business uncertainty created by these shifting and unpredictable currents often disproportionately inhibits investment in new sustainable business initiatives, and therefore require different skill sets for the internal advocates of such initiatives in companies—the precise skill sets that we are trying to develop for our Erb Institute students."
Read .pdf here.
Article by Allison Burtka – Erb Institute Staff Writer