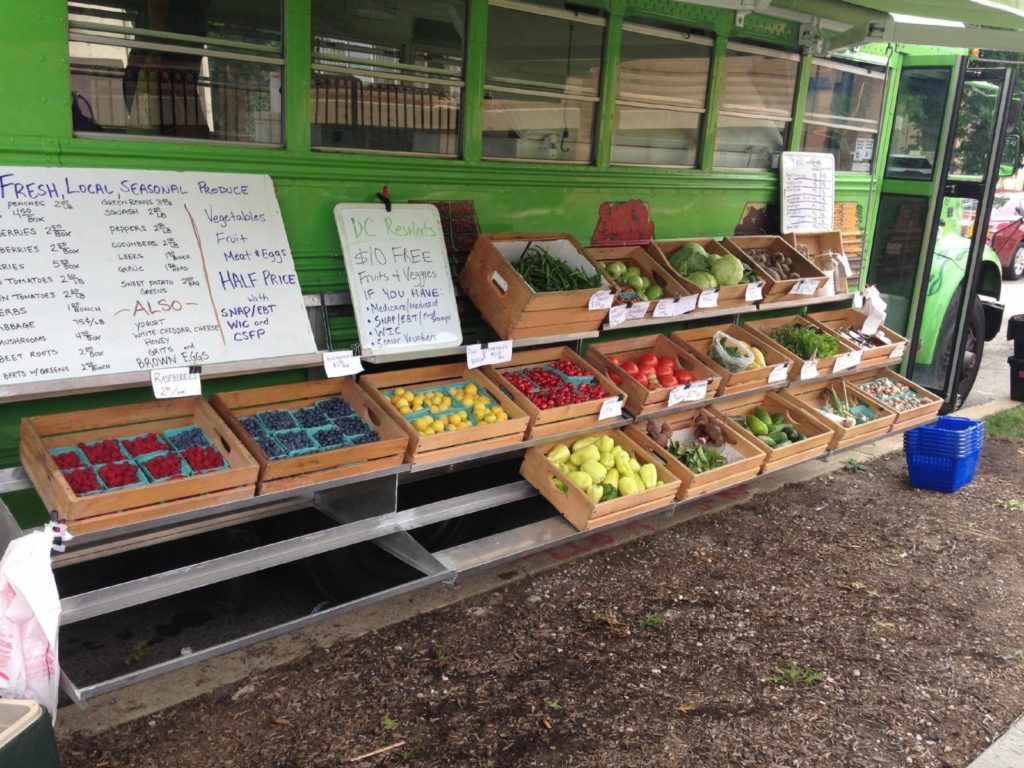 From trying to hold multiple crates of fruit to discussing the feasibility of market solutions, balance became an idea that I repeatedly thought about during my 2015 summer internship with the Arcadia Center for Sustainable Food and Agriculture's mobile market.
Arcadia operates a mobile farmer's market that makes 19 stops a week in the Washington, DC area. The mobile market consists of an old school bus and a box truck outfitted with freezers and external market shelves for customers.
Arcadia's mission is to bring sustainably grown fruits, vegetables, meats, eggs, and dairy products to neighborhoods in DC that don't have access to weekly farmers' markets at an affordable price.
This is a difficult balance to strike. A sustainable product is often more expensive. Combined with the need to support the logistical challenge of getting the product to 19 neighborhoods, the price to customers in these neighborhoods would normally be high. To combat this problem of affordability, Arcadia raises funds through grants and donations to increase their customer's purchasing power. They accept all forms of federal food benefits like SNAP dollars, Senior Farmers' Market Nutrition Program checks, Produce Plus, and WIC Farmer's Market Nutrition Program checks. Through grant funding, Arcadia is able to cover the cost of doubling the value of many of those benefits so that customers spending their federal benefits can buy more food at the market. As part of my internship, I surveyed customers about their experience shopping at the mobile market and also asked them about where they shop for their groceries.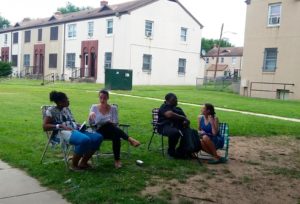 Key Findings:
Price is often a top concern for people shopping at the market. While some customers felt that the prices at the Arcadia market were too high, others felt that the prices were justified by the higher quality of the food.
Most customers reported eating the majority of their meals at home and therefore spent significant time shopping for food to prepare at home. Many expressed dissatisfaction with the quality of the produce in the grocery stores and supermarkets they shopped at, which were often the one's that were closest to their homes or places of work.
Customers wanted more produce variety. Arcadia is certainly limited in the amount of variety it can provide when compared to a traditional farmers' market because it is only one vendor and so can only sell what it can fit in its vehicles.
A lot of customers appreciated the Produce Plus program and Arcadia's matching of federal food benefits, which increase the affordability of healthier, sustainably grown foods.
Though some customers balked at whether to buy certain varieties of beans or plums, there was also a large contingent of customers, particularly older customers, who shared stories of growing up on a farm, or, as some people put it, "in the country." Many in this group expressed excitement about seeing a vegetable or fruit variety that they hadn't seen in a store but had eaten as a child. Now they could purchase that variety right in their neighborhood.
Today, there is much discussion of the opportunity to use market solutions to solve social problems. In Arcadia's case, sales cover a percentage of the market operation costs and by increasing the numbers of market stops and the volume of food sold, the organization hopes to increase the percentage of costs covered through sales.
This brings me back to the idea of balance and how this organization is seeking to fulfill their mission while also increasing their financial sustainability. I think it is very rare that a pure market solution can address a social issue. I think what actually ends up happening in many cases is a nonprofit or social business finds a balanced solution. For example, relying on sales from both low and high income customers, or on a mixture of sales, donations, grants, and/or government support, to successfully achieve their mission.