Last year, the two of us flew to Tianjin, China, for a week-long Erb Cool Project. The Sustainability Consortium (TSC) in China had approached Erb to invite two students to collaborate with the Tianjin Green Supply Chain Network (TGCC) on a website. TGCC is a for-profit Chinese corporation working with Asia-Pacific Economic Cooperation (APEC)  to design a Mandarin website on green supply chain events and research within APEC economies. We were to help TGCC create an English-language version of the site, using human-centered design to shape our recommendations.
Day 1—Tuesday
On our first day, we met our collaborators at TGCC and TSC to review our goals and go through the existing Chinese language website. Everyone shared our excitement for the project. We were particularly thankful for Jenny, a TGCC employee who took time away from her work to be our interpreter!
We went out to dinner with our hosts from TSC, Weidong and Jiali. They took us to a tremendous restaurant specializing in Yunnan cuisine in Tianjin's colonial district. Yunnan is a province with many ethnic minorities, so the food is unique, incorporating flowers and different spices in typical recipes.
Day 2—Wednesday
Both of us are involved with the Design+Business Club at Ross, and we brought our human-centered design skills to the mix. We met with several TGCC employees and led a brainstorming session to identify the site's main user groups. It was fun to introduce human-centered design tools we learned back in Ann Arbor into a new setting and to see the design process play out across cultures.
We then conducted empathic interviews with stakeholders involved with sustainability from corporate, nonprofit and government sectors. We gained new insights and confirmed our clients' understanding of the English site users' needs.
After work, we went with a few of our TGCC colleagues for a hot pot dinner. We ordered a delicious spread of lotus root, sliced lamb and pork, meatballs, and, being good Erbers, lots of vegetables.
Day 3—Thursday
 The next stage involved persona mapping. We leveraged our empathic interviews and the TGCC staff's experience to crystallize the site users' needs and attributes. We brainstormed specific features to include in the website to serve users' needs, and we even conducted interviews late in the night, speaking with a stakeholder in Chile, another APEC economy.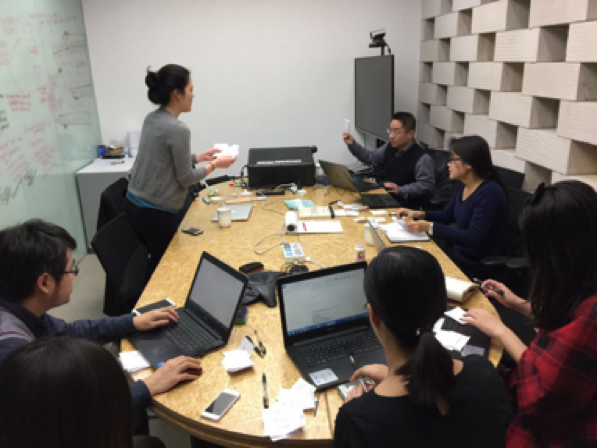 Day 4—Friday
TGCC had requested a kind of knowledge-sharing session on the Erb Institute and human-centered design. We were happy to share our ongoing studies and research at SEAS and Ross, a primer on human-centered design, and general guidelines for English-language websites for TGCC to use while developing the APEC site. This included asking our colleagues to create a customer journey map of the airport travel experience and brainstorm improvements—a classic design thinking exercise.
Weidong took us to visit Yujiapu, an area in Tianjin that the government is developing to be a low-carbon city. We saw impressive scale models of the city as envisioned once development is completed in about 10 years.
Day 5—Saturday
On our final day, we presented our recommendations to the entire TGCC staff, including the organization's general manager, Ms. Mu. We appreciated that the staff came in to listen to our presentation, even though it was a Saturday! After our presentation, Ms. Mu went around the table and had each staff member methodically give her or his reactions to our recommendations.
Overall, the feedback was positive—they were receptive to our ideas and seemed eager to implement them.The discussion of the recommendations continued into lunch, where we discussed future opportunities for collaboration between Erb, TSC and TGCC.
Post-Project Side Adventures: Day 6/7—BEIJING!
We traveled by high-speed train to Beijing, which took only about 30 minutes, even though it is 2 hours away by car. We stayed in a historic area called Nanluoguxiang, comprised of dozens of hutongs (old alleys with traditional architecture). We had a great time exploring the area, even visiting a cat cafe. The next day, we took the subway to Tiananmen Square.
Day 7/8—Wiles alone in Beijing
After waving goodbye to Helen, my short time alone in Beijing began. I sought out Xian Lao Man—a storied dumpling restaurant. With a Chinese phrase book in hand, I ordered a variety of dumplings without an interpreter and found out I had unwittingly ordered 140 dumplings. Server after server politely and patiently explained something to me in Mandarin. Of course, I understood none of it, despite trying to use my phrase book. Finally, a server communicated in English: "Too much." We went about slashing about 80 percent of my order.
The next day, I bounced from site to site, including the Lama Temple, Temple of the Earth Park and the 798 art district.
Our experience in China was incredibly memorable. We feel lucky to have been able to get a look into the work that environmental groups in China are focused on. We were also thrilled to practice human-centered design in a different language and a different country. We are so grateful to the Erb Institute to have given us the opportunity to work on this project!