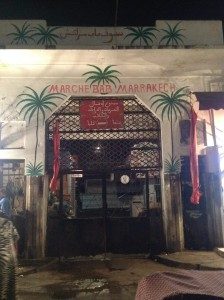 By Pavel Azgaldov
Morocco. Since childhood, I've associated the name with the taste of sweetest oranges. Casablanca. Marrakesh. Atlas Mountains. Berbers: All quickened my imagination. In my mind they were associated with adventure, luring me to visit one day. I recently fulfilled my dream, and my trip to Morocco was one of the most adventurous and memorable experiences in my life.
The chain of events was set in motion last fall when I was elected director of the Renewable Energy Case Competition, organized annually by the Ross Energy Club. During the case competition I met Pashupathy Gopalan, managing director of SunEdison in Asia; he proposed that I intern with SunEdison's office in Chennai, India. I was to  conduct market research on the potential of more than 200 developing countries for solar irrigation pumps, figure out the most promising ones, and prepare go-to-market strategies. One of the countries that caught my attention was Morocco.
Agriculture is a driver of the country's economy. More than 3 million Moroccans are employed in agriculture, which contributes 15 percent to GDP. Every year, farmers pump 4.5 cubic kilometers of water from groundwater sources, and 4.8 cubic km from surface sources. This high level of water consumption, coupled with consequences of climate change, put agricultural production at risk. In previous years, many regions suffered from drought, and harvests were much lower than before. Understanding the need for change pushed the Moroccan government to introduce subsidies for modern irrigation systems and solar water pumps and gradually abolish subsidies for diesel fuel.
While Morocco clearly is an attractive market and solar water pumps provided by SunEdison could significantly increase farmers' welfare, I couldn't form final recommendations without seeing the country and talking to its people, in order to understand exactly what SunEdison could do there.
Near the end of my internship, I suggested that SunEdison and the Erb Institute sponsor my trip to conduct interviews with government officials responsible for the support of renewable energy and irrigation schemes, as well as representatives of pump distributors regarding the adoption and installation of solar water pumps. Seeing the value, Erb, via the 'Cool Projects Award', and SunEdison approved my request and offered funding.
During the fall break, I set out on a one-week journey to Casablanca, Rabat and Marrakesh, seeking to understand the solar-irrigation situation in Morocco. I was lucky: my contacts there were very knowledgeable people.
My interviews revealed that the Moroccan market had great potential, but a number of factors had limited its development over the previous year. After the government announced that a small farmers' subsidy program would soon be approved, there was a decline in new installation of solar water pumps. This was true not only for farmers potentially eligible for the subsidy, but also farmers with larger holdings who expected that subsidy parameters would be increased.
Butane is a negative driver in the solar irrigation market. After a diesel subsidy abatement, farmers have switched to butane in recent years. As a result, today 40 to 50 percent of farmers use butane as a fuel for irrigation pumps, with one 25-liter butane bottle costing 40 dirham ($5). Without the subsidy, the cost is 120 Dh ($15). Farmers use old Renault automobile engines (definitely not environmentally friendly) for pumping water, with butane fueling the pumps. In many cases, farmers spend more on butane than they would have spent on solar photovoltaics: in one case, a farmer spent $80,000 per year on butane for irrigation needs. This irrigation method is both dirty and expensive.
Even given these negative factors, there was great potential for solar water pumps, with high hopes that the solar irrigation subsidy program would be adopted no later than spring of 2015. There also was a consensus that the butane subsidy would be phased out in the next two to three years, making solar photovoltaic water pumps attractive to nearly all farmers even without subsidies, with a payback period of approximately two years.
I left Morocco believing that my efforts were not in vain, having received valuable insights about its business culture, the irrigation situation in general and solar irrigation situation in particular, and potential Moroccan partners for SunEdison.
Graduating with a dual MBA and MS in 2016, Pavel's research interests lie at the nexus of renewable energy, water, and environment. Pavel is a co-VP of annual Renewable Energy Case Competition and a CleanTech Fellow at the Zell Lurie Commercialization Fund. Before Erb he worked for the Economy Ministry of Russia, where he had designed and introduced new regulations that would incentivize utilities with a $50 billion turnover to invest in energy efficiency and infrastructure as well as improve the quality of their customer care.  Pavel graduated from the Moscow Institute of Physics and Technology and New Economic School.  Click here for Pavel Azgaldov's full profile.