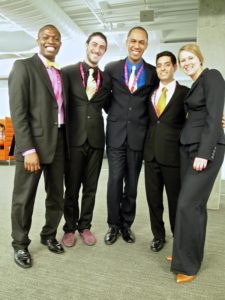 What happens when a Cameroonian medical student, a Finnish social entrepreneur, an American public health professional, an Italian architect, and a Kenyan actor turned medical student, get together in a room?  A lot of Post-it notes, a vibrant pitch presentation, and eventually… trust…
As much as our society prizes diverse and interdisciplinary teams, we rarely talk about how to make these teams successful. There's an implicit assumption that once you have a diverse team, great ideas and solutions will follow. While that's not entirely off-base, it also takes vulnerability, selflessness and trust to reach a point where great ideas are fostered.
Last month I represented the University of Michigan in the Hult Prize Regional Finals in San Francisco. Our challenge was to develop a sustainable and scaleable social business to address non-communicable disease in urban slums, with a goal of reaching 25 million slum dwellers by 2019.

We were a team of five:
Jonathan Awori, a Kenyan acting professor turned medical student
Callistus Ditah, a Cameroonian founder of an educational nonprofit and medical student
Joshua Bogus, a global public health professional with field experience in Rwanda, Cambodia, and Ghana
Gregorio Avanzini, an Italian architect and Fulbright Fellow
Marianna Kerppola, a Finnish social entrepreneur with corporate experience at Google and Nationwide Insurance
Despite our disparate backgrounds, we came together over our shared passion to address non-communicable disease.  Having lost loved ones to these diseases, our passion was nurtured by our personal experiences. In my own case I lost my mother, a biomedical executive, to adrenal cancer last summer and I hope to continue her life's work  in curing disease.

As we learned to work together, I was reminded of the parable of the blind men and the elephant, where each man (or woman) is touching a different part of the elephant and disagreeing about what sort of object it is. Time and again, our group needed to remember that our elephant—our solution for noncommunicable disease in urban slums—was indeed an elephant, even if each of us was approaching it from our unique perspectives.  We needed to trust that our unique perspectives—as a doctor, an architect, a healthcare professional, an actor or a social entrepreneur—would lead to a better solution when merged together.
I proposed using design thinking methods—an inherently ambiguous process using systems mapping, visualizations, journey mapping, and brainstorming—to develop our solution. I recommended design thinking as our approach because as a creative, social entrepreneur, I knew this collaborative, idea-oriented process was necessary to develop a unique solution to the challenge.  At the time, I did not fully realize the degree of trust required for successful implementation of this approach.
A week before the presentation, a team member questioned whether I should present in our final presentation. As a seasoned public speaker, I initially felt slighted by this skepticism, then I began to doubt my own abilities, further degrading his trust that I could present effectively. Days before the presentation, I finally broke down to express how overburdened I felt. The competition was held on my first birthday after my mother passed, and I felt distrusted by my team, making for an emotionally difficult week. When I expressed my frustrations, I found that my other teammates shared their own challenges and concerns. Counterintuitively, sharing my vulnerabilities with the team in my already vulnerable state actually helped create trust and strengthened the team dynamic.
Our team had developed a holistic, community-based solution that addressed diabetes and hypertension across the disease spectrum through microinsurance, door-to-door diagnostics, group visitations, street theater,  and mHealth. We named our business Jukwaa, the Swahili word for marketplace, envisioning the transformation of  slums through a marketplace of health ideas.
In the end, we did not win the Hult Prize Regional Competition in San Francisco.  But we did successfully forge a strong, trust-oriented team. Through my varied entrepreneurial endeavors, I've learned that pitch success can ebb and flow, but business success hinges on a team founded on trust.