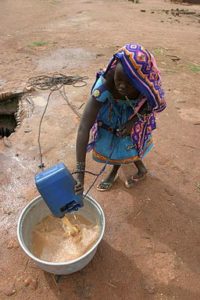 By Stacy Wennstrom
Two Erb Institute / World Environment Center (WEC) fellows, have co-authored a white paper based on their experience as facilitators at the May 2013 WEC roundtable on Resource Scarcity in Arlington, Virginia.  In this paper Emily Taylor and Stephen Ahn identify the need for businesses to actively address future resource scarcity, as current business models are based on the assumption that resource availability will remain consistent.
The WEC roundtable brought together representatives from AECOM, Boeing, Coca-Cola, General Motors, IBM, Ingersoll Rand, Roche, and Walt Disney.  The presenters and participants surveyed world trends, they looked to the past to learn from the political and economic impacts of previous resource shortages, and they also took inspiration from the U.S.'s Grand Strategy of World War II and the Cold War.
The Trends
Taylor and Ahn provide insights on what the future may hold, looking to the Global Trends 2030 report presented by Richard Engel of the National Intelligence Council (NIC) and also the presentation of Jason Clay, the senior vice president of market transformation at the World Wildlife Fund (WWF).   Future challenges for the business world include resource scarcity, as society is currently using 1.5 times the available resources and cannot continue at that rate without significant increases in productivity.  In addition, world trends indicate that climate change, shifts in national power, and the effect of technology on staffing (i.e., robotics replacing human labor) will provide additional economic challenges.
Learning from the Past
Taylor and Ahn also examine the work of Patrick Doherty, deputy director of the National Security Studies Program and director of the Smart Strategy Initiative at the New America Foundation (NAF). Doherty presented the case for the U.S. to treat resource scarcity with the same thoroughness that is reserved for war and other international disputes.  Doherty looked to the Grand Strategy of the U.S. during World War II and the Cold War to illustrate how foreign policy, economic policy, and governing institutions can come together to address challenges and argued that a similar alignment would be needed to address current issues of global ­unsustainability.
Planning for the Future
Taylor and Ahn identified three potential paths to address resource scarcity: government led solutions, private sector led solutions, and joint public-private sector led solutions.  The WEC roundtable participants did not agree on solutions, but drawing on successful examples from the past, Taylor and Ahn make the case for joint private-public sector initiatives.
The authors have written a blog about their WEC roundtable experience  / the white paper is available here (pdf)