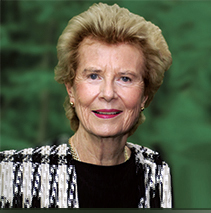 Barbara M. Erb
April 17, 1924– November 8, 2013
Friends of the Erb Institute community shared their condolences and memories of Barbara here.
We are extremely saddened by the loss of Barbara Erb, and remain immensely grateful for the inspiring legacy that she and her late husband, Fred,  have left to all those associated with  the Institute and to the world at large.   We remain indebted to this extraordinary couple for their uncommon vision and generous support,  and  will continue to draw on their example for inspiration for years to come. 
All who had the fortune of knowing Barbara remarked on her passion for her family's welfare and her keen desire to leave her grandchildren a better world than she inherited.  She wanted to see the Great Lakes restored, especially Lake Huron, the lake on which the family cottage is located and was a tireless supporter of the culture and natural environment  in Detroit and  Michigan.  She was always kind and gracious to those that met her.
The students, alumni, faculty, staff and other members of the Erb Institute community join  her children Rick, Wendy, Leslie and John (and Debbie) and her grandchildren Mimi, Lark, and J. Hugh Liedtke and Elizabeth Erb in mourning today.  View the obituary here.
Friends of the Erb Institute community are encouraged to post condolences and share memories of Barbara at the bottom of this post; Institute staff will later compile the posts and present them to the Erb family.
In sympathy,
Andy Hoffman
Director, Erb Institute