Cynthia Shih (Erb '13), a singer/songwriter performing under the name, Vienna Teng, is on an international  tour for her latest album AIMS.
Having recently completed the dual-degree MBA/MS Program with the Erb Institute earlier this year she asked Andrew Hoffman (Erb Director and her former professor)  to contribute to the liner notes for her the new album.  Here are his remarks:
Essay in the liner notes of Aims Deluxe CD, by Vienna Teng, © 2013
We have no shortage of cynics in today's world. In the face of so many problems to which we cannot avert our attention or awareness—climate change, wealth inequality, industrial diets, invasive technology—and it can be easy to feel helpless. In response, many of us throw up our hands in disgust and disengage.
But there is another way to look at the unease we feel in our times: as the beginning of a great shift in consciousness. Humankind is altering both the natural and social worlds in ways that were unfathomable just decades ago. In the wake of those changes, we are changing what it means to be human. We are recognizing a new moral order where the size of the human population and the technological power we wield demand that we tread more lightly on the Earth.  We are now questioning material consumption and economic growth as the path to happiness.  We are beginning to reject corporate advertising campaigns and the products they sell to satisfy the insecurities they create.  And we are recognizing a community of humanity where all these problems are shared ones, where solutions begin with love, empathy and care.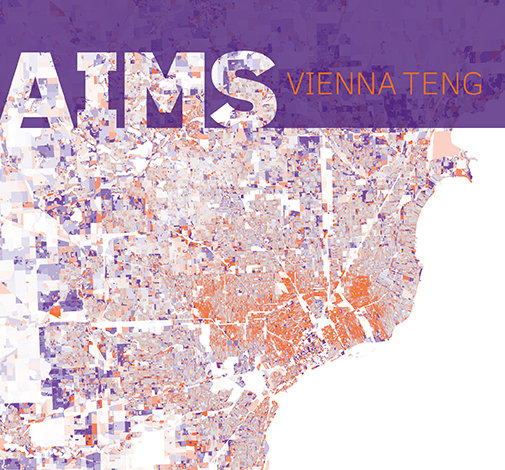 What we need now, more than ever, are people who ask questions and summon the courage to look squarely at the full scope and import of the answers. But our shift in consciousness must go beyond intellectual understanding to be complete; it must also be felt through the heart.  We need people to illuminate the personal meaning in our collective challenges, to inspire us to strive beyond ourselves.
In Aims, Vienna Teng offers this kind of inspiration. These songs are an expression of her love and fascination with both the dark and light aspects of our contemporary existence. They speak to us with haunting melodies and potent lyrics that touch us in ways that criticism and data cannot.  In her own words, she is "expressing things that normal conversation and written language just can't do."  And in so doing, she moves us to care enough to act.
Through her art, she lives out the words of John F. Kennedy: "We must never forget that art is not a form of propaganda; it is a form of truth…The highest duty of the writer, the composer, the artist is to remain true to himself and to let the chips fall where they may. In serving his vision of the truth, the artist best serves his nation."  Vienna is serving us all with the truth in her music, and I pray she doesn't stop.
Andrew Hoffman
Erb Institute for Global Sustainable Enterprise
Ann Arbor, Michigan
August 2, 2013
Vienna Teng's tour opened on September 25th and includes Germany, the UK, and the US.  The tour schedule can be found here. Aims can be purchased here and is available as a download, a deluxe CD, an eco-pack CD, and a USB drive.